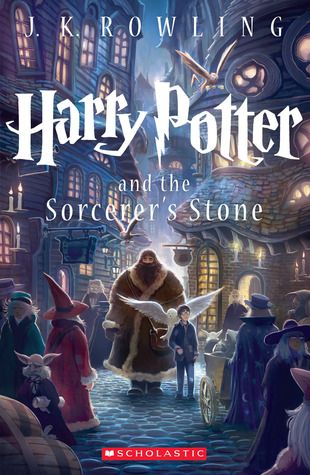 Harry Potter and the Sorcerer's Stone
(Harry Potter #1)
by J.K. Rowling
Website | Twitter | Facebook
Publication Date: June 26th 1997
Publisher:
Scholastic
Pages: 309
ISBN:
9780545582889
Genre: Young Adult | Fiction | Magic
Source: Own
Add to
Goodreads
Available for Purchase:
Amazon
|
Barnes & Noble
|
The Book Depository
Harry Potter has never played a sport while flying on a broomstick. He's never worn a Cloak of Invisibility, befriended a giant, or helped hatch a dragon. All Harry knows is a miserable life with the Dursleys, his horrible aunt and uncle, and their abominable son, Dudley. Harry's room is a tiny cupboard under the stairs, and he hasn't had a birthday party in ten years.

But all that is about to change when a mysterious letter arrives by owl messenger: a letter with an invitation to a wonderful place he never dreamed existed. There he finds not only friends, aerial sports, and magic around every corner, but a great destiny that's been waiting for him... if Harry can survive the encounter. (Goodreads)
My Thoughts...
One of my goals for 2016 was to read the Harry Potter series from the beginning to end. I have read books one through four in the past, but never had a chance to finish the series, or watch the movies, and that was something I really wanted to fix this year. And once again, it took me too long to find time to actually do this, and I was worried that this goal would, once again, slip by without completing it. But, I was determined to get started on this series, and I FINALLY DID!!
Technically, this is my second time reading
Harry Potter and the Sorcerer's Stone
, with the first time being when I listened to it on audiobook way back before I first started blogging. I was super excited to start the series over again from the beginning, and I found that I enjoyed the book even more this time than I did the first time!
There are so many characters in this book that I love -- Harry, Ron & Hermione, of course, because they are all awesome and have the BEST friendship ever. But also Neville, Hagrid, Dumbledore, McGonagall, the Weasley family, and so many more. They are all so well written, and I'm really looking forward to seeing all these characters again as the series goes along.
The storyline for this book was magical and completely captivating. Once again, I was drawn into this story in different way than I did when I listened to the audiobook before. I guess because I was actually paying more attention this time around. I loved the setting and all the talk of magic throughout the story. It definitely kept me interested. This book was a really fun, and super quick read. I read this first book in just one days time, and I can't wait to get started on the next book ASAP!
The movie for this book is also the only movie I've seen so far. I rewatched it again with the kiddos after I finished my reread, and I really, really liked the movie. The characters are so great, and while there were some changes from the book, they really didn't bother me. I totally understand that they have to do some changes. I'm excited to watch the rest of the movies now, and plan to watch each of them as soon as I finish their book!
Overall; I really didn't think it would be possible to enjoy
Harry Potter and the Sorcerer's Stone
as much the second time as I did the first, but I totally did. I'm super excited to continue with the rest of the books, and the movies! And, hopefully, I will have them all finished before the
Fantastic Beasts and Where to Find Them
movie is released in November, so I can actually a J.K. Rowling movie in the theater. *smile*