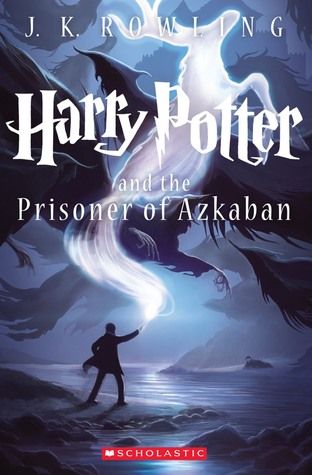 Harry Potter and the Prisoner of Azkaban
(Harry Potter #3)
by J.K. Rowling
Website | Twitter | Facebook
Publication Date: August 27th 2013
(first published July 8th 1999)
Publisher:
Scholastic
Pages: 435
ISBN:
9780545582933
Genre: Childrens | Sci-Fi | Fantasy
Source: Own
Add to
Goodreads
Available for Purchase:
Amazon
|
Barnes & Noble
|
The Book Depository
For twelve long years, the dread fortress of Azkaban held an infamous prisoner named Sirius Black. Convicted of killing thirteen people with a single curse, he was said to be the heir apparent to the Dark Lord, Voldemort.

Now he has escaped, leaving only two clues as to where he might be headed: Harry Potter's defeat of You-Know-Who was Black's downfall as well. And the Azkaban guards heard Black muttering in his sleep, "He's at Hogwarts… he's at Hogwarts."

Harry Potter isn't safe, not even within the walls of his magical school, surrounded by his friends. Because on top of it all, there may be a traitor in their midst. (Goodreads)
My Thoughts...
Moving along in my Harry Potter readathon, I finally finished
Harry Potter and the Prisoner of Azkaban
! I have listened to the audiobook before many years ago, but I don't remember much from it, which is kind of a bonus, because it's like getting to read the book from the beginning, which I guess I technically I am!
I love so many of the characters in this series so much. Of course Harry and Ron are both favorites of mine, but my appreciation for Hermione is growing more and more as the series goes along, and I do believe she's my all-time favorite. I just find her relatable in so many ways, even though she is a million times smarter than I will ever be. Haha! I just love her. And I love Harry and Ron because they love her as well. SO many great characters in the story, some we've met before, and quite a few interesting new ones as well!
As with the previous books, I LOVE the journey that you take with these characters throughout the story. I'm always anxious to see what's going to happen next for them. The magical storyline never fails to draw me in, and completely catch my attention. And I'm always excited to move on to the next book once I finish one. It's great!
I've really enjoyed all the movies for the books so far, but Prisoner of Azkaban seemed extremely rushed to me for some reason. I know it's from trying to fit 400+ pages of a book into a 2+ hour movie, but still, it always drives me crazy when a movie seems rushed. But, the movie and the characters were great, as always.
Overall;
Harry Potter and the Prisoner of Azkaban
is another great book in the Harry Potter series! I can totally see why so many people say that this book is their favorite out of all the books in the series, and I'm looking forward to reading the rest of the books so I can pick a favorite as well!
Harry Potter and the Goblet of Fire
, you're next!!